Support Groups
Compassionate Friends – provides highly personal comfort, hope, and support to every family experiencing the death of a son or a daughter, a brother or a sister, or a grandchild, and helps others better assist the grieving family.
New Mexico Share – is a support network for families whose lives are touched by the tragic death of a baby through early pregnancy loss, stillbirth or infant loss. We are affiliated with the Share Pregnancy and Infant Loss Support, Inc. This online network offers a supportive and safe environment for you to share your experiences and feelings with other parents who have suffered this type of loss.
1113 University Boulevard NE
Albuquerque, New Mexico 87102
505-842-7166 phone
Provides a grief support group for parents who have lost children who were medically fragile in a peer-led support group for parents at any stage of grief after the passing of their child. Our meetings are facilitated by parents who have lost a child. The mission of the group is to provide a safe place for parents to share and talk about their loss with other parents who have experienced a similar loss and to encourage parents as they move forward in life after the passing of their child.
This nonprofit organization out of Texas provides resources and support to families throughout the NICU journey and beyond.   They offer an app to help with tracking in the NICU and virtual support groups.  They also have a great podcast series on aspects of life in the NICU.
For bereaved families, the organization offers one on one support, a separate podcast series, and other resources to help at these difficult times.
Non-profit organization that provides support and resources to families who have lost a child. Ellie's Way provides comfort, encouragement, and hope to the grieving. We hope that you find support here. Feel free to look around their website and consider joining an online support group.
Postpartum Support International
Postpartum Support International offers resources and support groups for multiple topics including loss, pregnancy after loss, perinatal mood and anxiety groups, NICU, to name just a few.   The loss groups are throughout the week.   There is a parenting loss group every week – 1st and 3rd Thursday at 9:00 pm Eastern and 2nd and 4th Tuesday at 9:00 pm Eastern.
Hope Mommies – A non-profit organization with the mission to share the hope of Christ with bereaved mothers and families experiencing infant loss.  Hope Mommies provides online support, hope boxes for grieving families, hope groups and a yearly retreat.
Mammas of Heart Angels – a Facebook group for mom's who lost a CHD warrior to chat with each other. This group is private and you may request an invite to join.
Books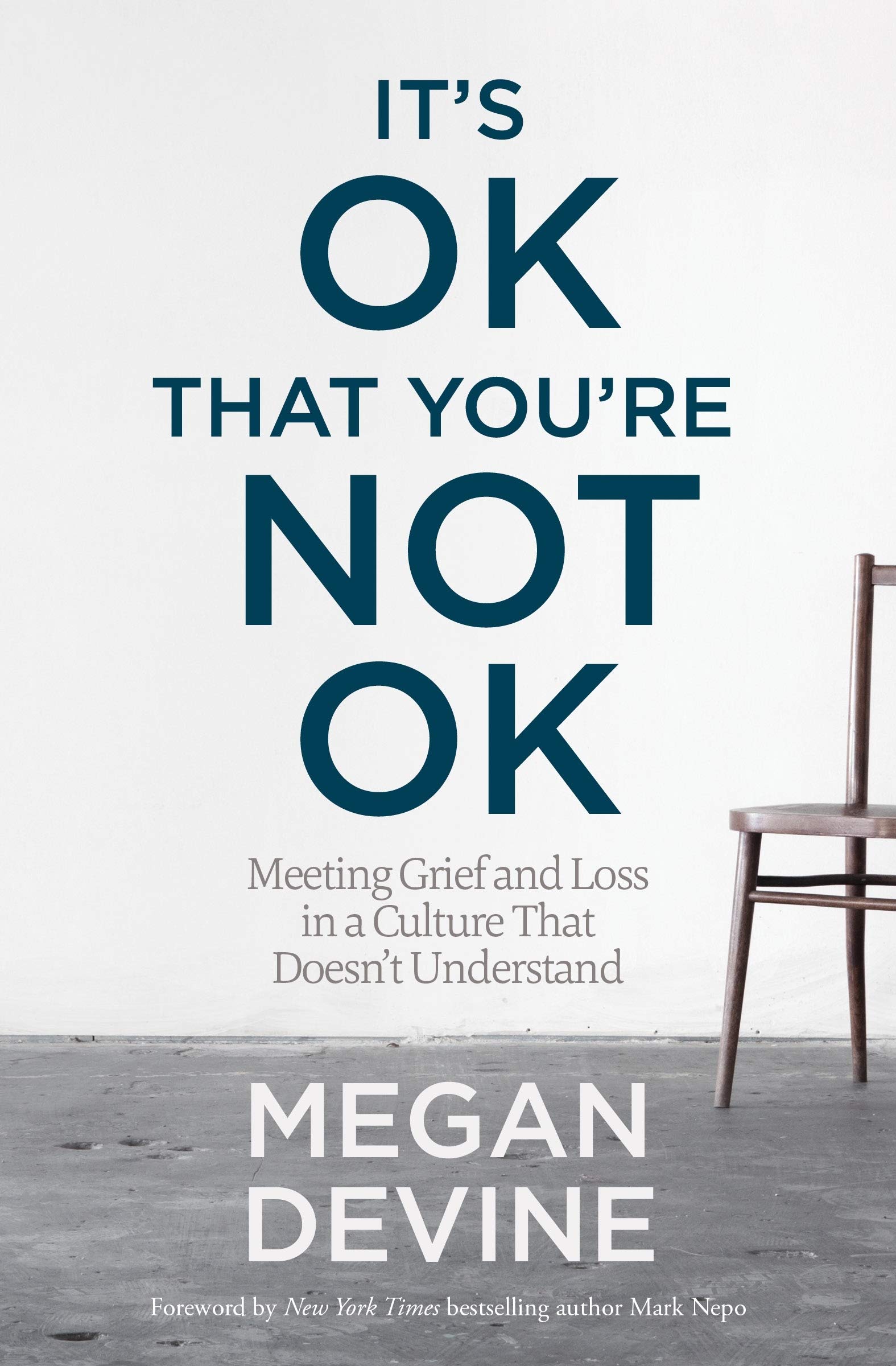 It's OK That You're Not OK:
Meeting Grief and Loss in a Culture That Doesn't Understand
by Megan Devine
When a painful loss or life-shattering event upends your world, here is the first thing to know: there is nothing wrong with grief. "Grief is simply love in its most wild and painful form," says Megan Devine. "It is a natural and sane response to loss."
So, why does our culture treat grief like a disease to be cured as quickly as possible?
In It's OK That You're Not OK, Megan Devine offers a profound new approach to both the experience of grief and the way we try to help others who have endured tragedy. Having experienced grief from both sides―as both a therapist and as a woman who witnessed the accidental drowning of her beloved partner―Megan writes with deep insight about the unspoken truths of loss, love, and healing. She debunks the culturally prescribed goal of returning to a normal, "happy" life, replacing it with a far healthier middle path, one that invites us to build a life alongside grief rather than seeking to overcome it.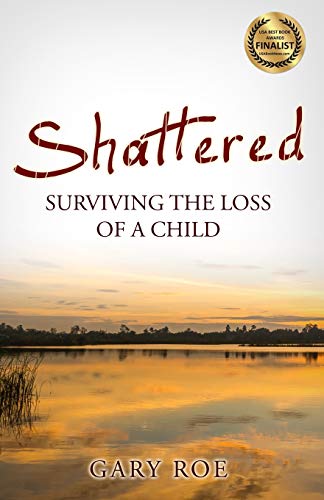 Shattered: Surviving the Loss of a Child
by Gary Roe
Shattered: Surviving the Loss of a Child was written to help. Bestselling author, hospice chaplain, and grief specialist Gary Roe uses his three decades of experience interacting with grieving parents to give us this heartfelt, easy-to-read, and intensely practical book.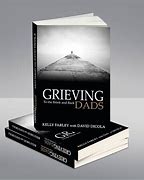 Grieving Dads: To the Brink and Back
by Kelly Farley
Grieving Dads: To the Brink and Back is a collection of candid stories from grieving dads that were interviewed over a two-year period. The book offers insight from fellow members of, in the haunting words of one dad, "this terrible, terrible club," which consists of men who have experienced the death of a child. This book is a collection of survival stories by men who have survived the worst possible loss and lived to tell the tale. They are real stories that pull no punches and are told with brutal honesty. Men that have shared their deepest and darkest moments.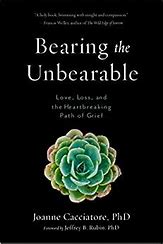 Bearing the Unbearable: Love, Loss, and the Heartbreaking Path of Grief
by Joanne Cacciatore
Bearing the Unbearable is a Foreword INDIES Award-Winner — Gold Medal for Self-Help.
When a loved one dies, the pain of loss can feel unbearable—especially in the case of a traumatizing death that leaves us shouting, "NO!" with every fiber of our body. The process of grieving can feel wild and nonlinear—and often lasts for much longer than other people, the nonbereaved, tell us it should.
Organized into fifty-two short chapters, Bearing the Unbearable is a companion for life's most difficult times, revealing how grief can open our hearts to connection, compassion, and the very essence of our shared humanity. Dr. Joanne Cacciatore—bereavement educator, researcher, Zen priest, and leading counselor in the field—accompanies us along the heartbreaking path of love, loss, and grief. Through moving stories of her encounters with grief over decades of supporting individuals, families, and communities—as well as her own experience with loss—Cacciatore opens a space to process, integrate, and deeply honor our grief.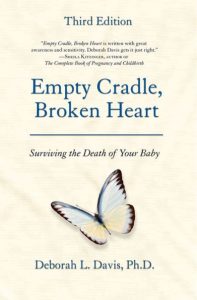 by Deborah L. Davis
The heartache of miscarriage, stillbirth, or infant death affects thousands of U.S. families every year. Empty Cradle, Broken Heart, Third Edition offers reassurance to parents who struggle with anger, guilt, and despair during and after such a tragedy. In this new and updated edition, Deborah Davis encourages grieving and strives to cover many different kinds of loss, including information on issues such as the death of one or more babies from a multiple birth, pregnancy interruption, and the questioning of aggressive medical intervention. There is also a special chapter for fathers as well as a chapter on "protective parenting" to help anxious parents enjoy their precious living children. Doctors, nurses, relatives, friends, and other support persons can gain special insight. Most importantly, parents facing the death of a baby will find necessary support in this gentle guide.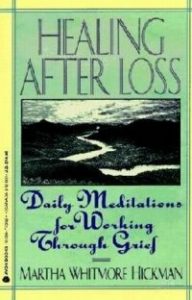 by Martha Whitmore Hickman
For those who have suffered the loss of a loved one, here are thoughtful words to strengthen, inspire and comfort.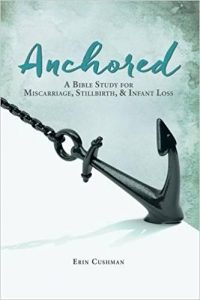 Anchored
by Erin Cushman
Grief hits like a tidal wave, as endless questions batter your soul. Why me? How could God allow this to happen? Did I do something wrong? Where is my baby now? Can I survive this?  Anchored invites you to grieve in an honest and faith-filled way. With personal stories, seasoned insight, and gentle questions, you are invited to lay your deepest hurt at the foot of the cross and allow God to anchor your brokenness.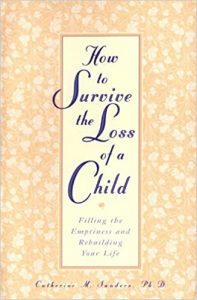 How to Survive the Loss of a Child
by Catherine Sanders
Sanders is a psychologist specializing in bereavement. After losing her son, Jim, in a waterskiing accident, she began her own journey through grief and the loss of a child. She was astounded to find so little information for grieving parents and ultimately has devoted her professional career to writing and helping bereaved families. This book is profoundly helpful in recognizing the stages of grief and the fact that you're not losing your mind or alone in this walk